Industrial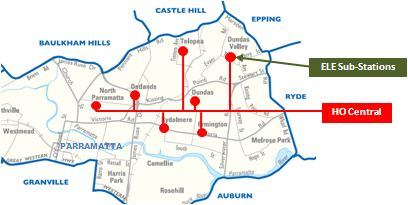 Large Scale Distributed Power Supply: In the above example, we are showing the City of Parramatta, Sydney NSW. Surrounding suburbs have the ELE system installed into the existing sub-stations. All are linked together through the existing infrastructure and are monitored and controlled from the central HO facility.

Industrial Power Supply: In the event that there is a failure of the ELE unit in the Production Space, both the Main Office and the Point of Sales units will increase their workload to supply surplus power until the unit is repaired. HO has already been notified of the exact nature of the fault and a technician is on the way with the required parts.
Industrial ELE CHP (Combined Hot water & Power) or power only unit.
We believe that the future of large scale power generation needs to move away from the current expensive and polluting power stations, to a more cost effective distributed infrastructure. Industrial and large scale manufacturing will encompass units that will utilise the modular ELE Rotary, such as the 2, 3 and 4 chamber core engines. These will be specifically designed to meet the needs of various industries.
ELE Industrial
These units are specificaly designed to the requirements of large scale business or a distributed suburban power supply.